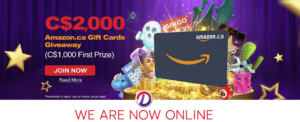 Hi Everyone,
Exciting news – Delta Bingo is ONLINE! Launched on Monday, August 9th, 2021 Delta is excited to offer guests the games they love anytime, anywhere!
Site Access:
Overview:
Requires registration (email address and phone number)
FREE to play, anywhere, anytime! Yes, that means charity volunteers can play too!
Bingo and casino games available
Prizes awarded daily!
How to Play:
Visit online.deltabingo.com and register with your email address to play.
Choose from a variety of different games and themes.
Each game requires a minimum of 3 participants. Once 3 or more players are in the game, the game will start.