Kinsmen Super TV Bingo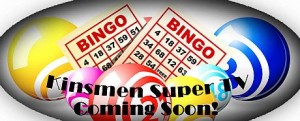 Kinsmen Super TV Bingo returns Saturday November 14 2015 @ 5:00PM!
You can find us on many channels;
CHEX  can be seen on -> Shaw Direct satellite channel 348, Bell ExpressVu satellite channel 217. CHEX is also found on over fifty cable systems and available "over-the-air" on channel 12. So please, check your local listings!
We are now simulcasting on CKWS in Kingston;
CKWS can be found ->
Channel 10 and 702 in HD,
Channel 702 and 11 in both Brockville and Belleville
30.1 Digital in Brighton
Channel 11 in Kingston (antenna).
Channel 233 on Bell Satellite, and on Shaw Direct channel 334 (classic) and 54 (advanced).
Smiths Falls channel 26 (antenna) and Spencerville channel 36 (antenna)
We have a prize board worth as much as $5,000.00 dollars.
Top & Bottom line bingos each worth $500.00 AND a full card for $3,000.00, should it go in 48 numbers or less it's a $4,000.00 dollar prize! 
A strip of three tickets is 3 dollars and you can find tickets at these fine stores;
Click Here to Find a Store Near You Broadcasting on CHEX
Click Here to Find a Store Near You broadcasting on CKWS
If you have questions or would like more information about cards and our game please contact us by clicking on our contact us page!