Win A $200 Fireworks Package!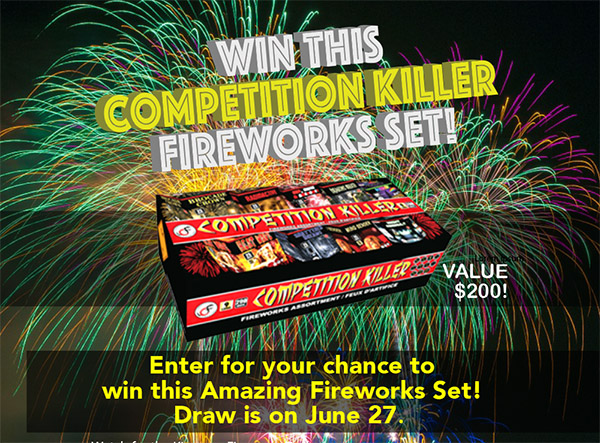 Enter to Win 1 FREE
COMPETITION KILLER Fireworks Package
in our draw!
The winning name will be announced on
Thursday, June 27, 2019, just in time for Canada Day.
Contest open to Canadian Residents over the age of 18 only.
Freight charges may apply.
To enter, you must fill in all fields below.
Also ***Watch for theKinsmen Fireworks Trailer*** at
John Dewar's Autosource, 1175 Lansdowne Street West
Wednesday, May 15th, 2019: 5 to 8pm
Thursday, May 16th, 2019: 5 to 8pm
Friday, May 17th, 2019: 11am to 8pm
Saturday, May 18th, 2019: 9am to 8pm
Sunday, May 19th, 2019: 10am to 7pm