Service Continues…..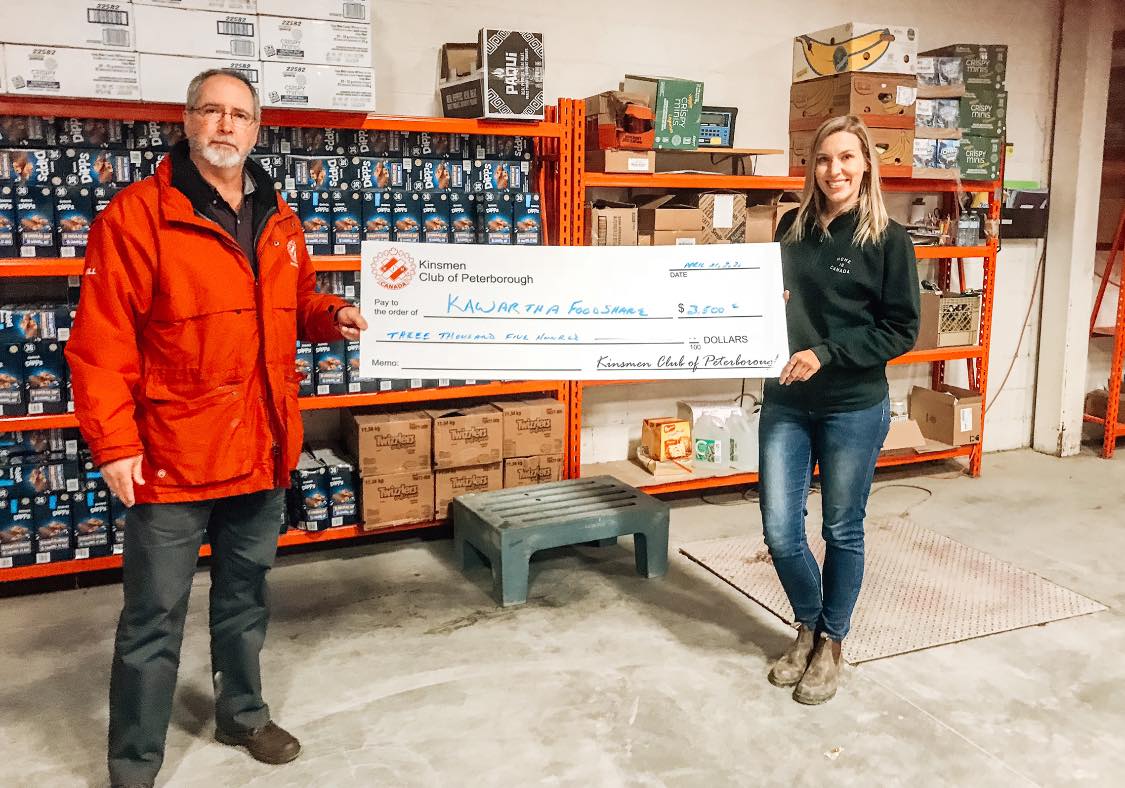 President Bill McDougall presents a donation to the Kawartha Food Share Ex. Dir. Ashlee Aitken, Service never rests, Even during a pandemic.
Let the Celebration Begin!!
The Kinsmen club of Peterborough is celebrating two distinct anniversaries today!!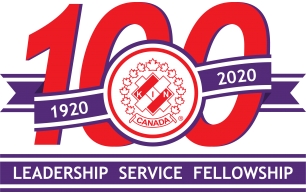 The Association of Kinsmen and Kinette Clubs is celebration our 100th Anniversary. Originally formed in Hamilton Ont., by Hal Rogers, it has grown into the preeminent service club in
Canada, with over 500 clubs coast to coast. In our celebrated history we have provided war time relief to Britain, through our Milk for Britain program,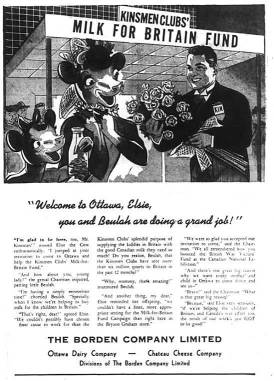 raised in advance of 50 million dollars for the fight against Cystic Fibrosis,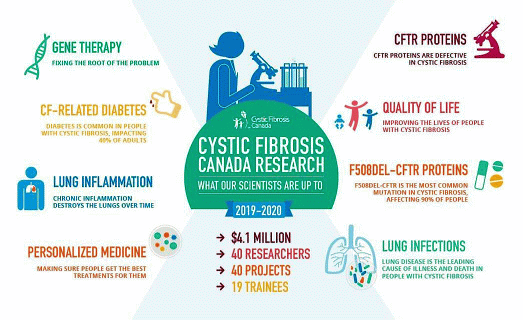 Our newest service initiative is resurrecting a very important national initiative supporting Canadian blood services,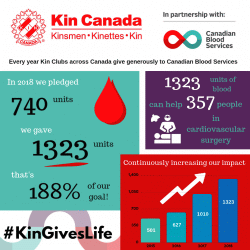 and supported countless community based activities across Canada.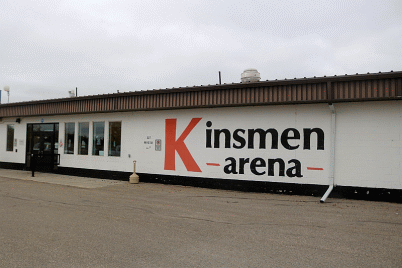 Kinsmen Arena – Yorkton Sask.
AND!!
We are celebrating the 90th anniversary of the Kinsmen Club of Peterborough
Our history is quite storied:
The Kinsmen Club of Peterborough was formed April 17, 1930 by the District Executive, which was then in Toronto. The charter membership then was 18 members. Charter President was the late Alex Elliot MPP. We have chartered the Kinsmen Clubs of Kingston, Bancroft, Bobcaygeon and Lakefield. The K-40 Club was formed February 17th 1972 with Doug Moscrop as Charter President.
2020 will mark our club's 90th year of community service, and our membership has grown to 41 members.
Since our charter in 1930 the Kinsmen Club of Peterborough has left an indelible mark on our community. The Eye Clinic was the initial service project. Between 1954 and 1966 $35,000.00 was raised to supply glasses and frames.
The Kinsmen Garden Court was initiated in 1959. Over the next 8 years the project was completed, expanded and recognized through a National Housing Award.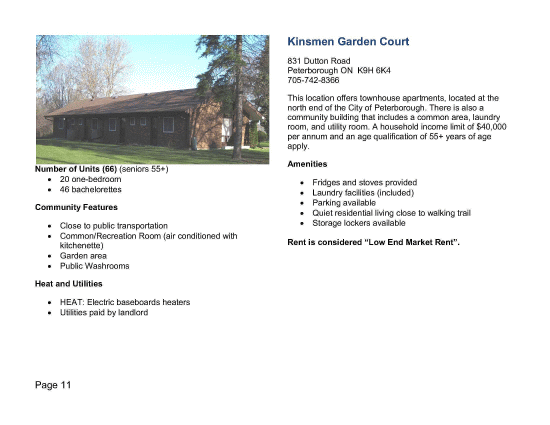 Through the 1970s the Club developed the Kinsmen Civic Centre, took over the Santa Claus Parade, and supported Cystic Fibrosis, Boy Scouts, Minor Hockey, The 5 Counties Children's Centre, The Humane Society, and Big Brothers/ Big Sisters.
In the last twenty years, the Kinsmen has organized the Kinsmen Soap Box Derby, become a major sponsor of the Festival of Lights, and hosted Peterborough's Kinsmen Riverside Arts and Crafts Show and Sale. We were the originating partner with Kinsmen Minor Football, and supported;
The Kinsmen Club of Peterborough are very proud to have established our own bursary program from the funds we developed through our fire works sales..
We are just firing up our 13th Support your Sport silent auction in support of youth sports in Peterborough..through that event we have raised close to $100,00.00.00
Last but not least our Kinsmen Super TV bingo has developed into a significant partnership with communities and other Kinsmen and Kinette Clubs across most of Eastern Ont. Through Super TV Bingo we are raising and distributing $100,000.00 annually to many many Kin community initiatives…
Cheers to 100 Years Peterborough!!

The Kinsmen Club of Peterborough was saddened to hear of the recent Passing of Past District 8 Governor LM Ian McLure HRF. Kin Ian was the driving force in developing Kin Canada's support nationally on behalf of Cystic Fibrosis. He and Kin Bill Skelly were instrumental in the development our our national C.F. initiative. The Kinsmen Club of Peterborough extends heartfelt regrets to Ian's family

.
McCLURE, Ian Francis Born in Brockville, Ontario September 17, 1930 and passed away in his 90th year, Friday, November 15, 2019. Youngest son of the late William John and Mae Francis McClure, predeceased by all his siblings. Beloved husband of Judith Richey McClure (nee Perks). Loved dearly by his two stepsons Barclay Todd Richey (Larraine) and the late Robert Stephen Richey (Lori) , Judith's sister Helen Wakeford, niece Martine Briggs, great-niece Genevieve Fincher. Loving grandfather to Todd, David, Stephanie, Kyle and Travis Richey. Loved by great-grandchildren Lucas, Blake, Nathan, Wyatt, Parker, Neila, Taylor and Jaxson. He was instrumental in "Serving the greater need of the community of Canada". He had 25years of perfect attendance in Kinsman. He was a past governor of district 8 (1968-1969). Past national president of Canadian cystic fibrosis (1976-1978). Life member of Kin Canada (1971). Life member of Kawartha Golf & Country Club (May 9, 2017).He was proud owner of Northview Commerce Court (1981-2012), owned Credit Bureau Lindsay, Credit Bureau of Peterborough, Merchants Credit and Ian F. McClure Holdings Ltd. Keeping with Ian's wishes cremation has taken place and a private family gathering will be held at a later date. Arrangements entrusted to COMSTOCK-KAYE LIFE CELEBRATION CENTRE, 356 Rubidge Street. In lieu of flowers, memorial donations to Cystic Fibrosis or P.R.H.C – Foundation would be appreciated. Online condolences may be made at www.comstockkaye.com

46th Annual Peterborough Kinsmen Santa Claus Parade
Ladies & Gentlemen, Boys & Girls, Children of all ages!
Come one, come all, to the 46th Annual Peterborough Kinsmen Santa Claus Parade to be held on Saturday, December 7th, 2019 commencing from City Hall at 4:45pm.
This year's parade theme is: A Fairy Tale Christmas
What's your favourite Fairy Tale or Fairy Tale Movie? Is it Snow White, Cinderella, The Three Little Pigs or may be Beauty and the Beast, Aladdin and Sleeping Beauty.
Applications for this year's parade can be found below and emailed to kinsmenscp@gmx.com or mailed to the Kinsmen Club of Peterborough to the attention of the Parade Chairman at
274 King St, Peterborough, ON K9J 2S2.
Hope to see you there!
Download the Application below:
PETERBOROUGH – This past winter held an icy grip on the Kawarthas right into May but as the Canada Day long weekend and Summer approaches, Canadians celebrate our confederation with family bbqs, opening up the cottage, dusting off the fishing rod and colourful evening skies with fireworks. (See Contest below)
#1: How Kinsmen help with Education:
The Kinsmen organization has always promoted the value of education, with the Kinsmen Club of Peterborough participating in the Kin Canada bursary program for many years now.
In fact, they began awarding single $1000 bursaries annually to Peterborough and area students three years ago. Eager to expand that initiative to assist more local students, the Kinsmen are establishing a fund that will provide annual $500 commencement awards at each Peterborough and area high school (8 in total) for graduates pursuing post-secondary education.
The criteria will be "a deserving graduate" who has shown leadership qualities while involved in extracurricular activities throughout their high school career, and who has demonstrated strong volunteerism within the Peterborough and area community."
Reach out to us this week to find out more.
#2: How you can Support Us to Support the Community:
So this year, the Kinsmen Club of Peterborough invites you to come and see us at the Kinsmen Fireworks Trailer at John Dewar's AutoSource at 1175 Lansdowne Street West in Peterborough, and see what we are all about. Find out how you can support us support the Community!
Wednesday,June 26: 5pm – 8pm
Thursday, June 27: 5pm – 8pm
Friday, June 28: 11am – 8pm
Saturday, June 29: 9am – 8pm
Sunday, June 30: 10am – 7pm
So, by picking up your Canada Day fireworks at the Kinsmen Fireworks Trailer this week, you will be supporting local students and kicking your summer season off with a bang!
Plus, don't miss out on your chance to win a $200 fireworks package. Simply visit http://www.kinsmenclubpeterborough.ca/community/ to submit your entry – no purchase required.
Help us help the deserving students, and so much more!!